Welcome To Foundry Four Coffee Bar & Tasting Room
artisanal coffee & distilled spirits Forged in prineville, oregon
HOURS OF OPERATION:
COFFEE BAR
MONDAY - FRIDAY 7:00AM - 5:00PM
SATURDAY 8:00AM - 5:00PM
WHISKEY TASTING
MONDAY - THURSDAY NOON - 5:00PM
FRIDAY - SATURDAY NOON - 6:00PM
CLOSED SUNDAYS
Our Roots
We bought a building that spoke to us about days past. Days when work was hard and American values prevailed. The spirit of the building inspired us to celebrate the hard working men and women who started the day with a strong cup of coffee, and after a long day, when it was time to sit back and relax, did so with a glass of whiskey in their hand. Foundry Four Spirits and Coffee Bar, and the products we produce, were born out of our love of hard work, history and quality hand-made goods. Sit back, relax, and celebrate the American worker with us, while sipping on a delicious cup o' Joe or a tall glass of local small town spirits...
Our Products
We produce Whiskeys and Bourbons made in small farm-to-table batches. In addition, we serve the finest organic coffee products in a relaxing industrial downtown coffee bar. We source the best ingredients and products, locally - whenever possible. We are like artisans in any trade, learning as we go, with the best intentions and a focus on creating quality goods. Join us on our journey....
our mission
to provide quality american distilled spirits and Coffee with a focus on local farm raised ingredients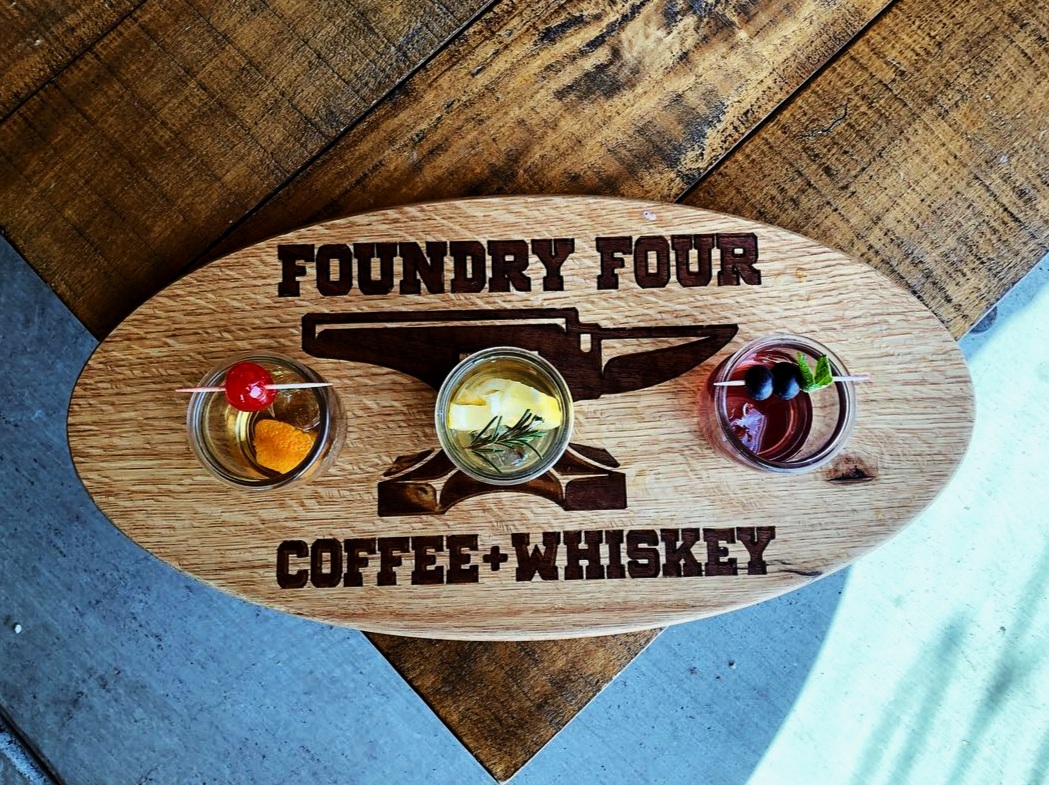 distilled spirits and coffee
We specialize in farm-to-table small batch distilled spirits and fresh locally-roasted coffee, supplied by our partners at Sisters Coffee Company. Together with our historic building we provide a space where you can sit back, relax, and enjoy the best of what life has to offer, outside of a hard days work.